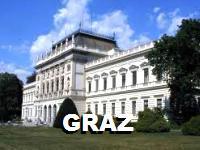 Graz, the capital of the federal state of Steiermark, is situated in the south-east of the country. It is the second-largest city in Austria. The centre of Graz is on the UNESCO list of World Cultural Heritage Sites.
Parking in Graz
Chargeable and limited parking is set in the centre of Graz. The parking zones (red and green) are indicated with traffic signs and markings at all entrances and exits. The maximum duration is limited. Unlimited parking is set to the car parks and to the free or cheap P+R locations on the outsirts.
On-street paid parking in Graz
• monday-friday 09-20 hours, saturday 08-13 hours*
• tariff : € 0.90/30 min (first 10 min free of charge)
• maximum duration : 3 hours, except Europaplatz (1 hr), and Kaiser-Josef-Platz, Schlögelgasse, Lendplatz (1,5 hr).
In the Hauptbahnhof Viertel paid parking applies every day 08-22 hours.
In the green zones unlimited parking applies from monday to friday 09-20 hours for a rate of € 0.60/30 min., daily max € 7,00
Car parks in Graz
Parking capacity is available in several car parks in and near the city centre for long term parking. The parking rates are high.
Read more
P+R in Graz
Cheap or free parking is possible at the P+R facilities around Graz.
• P+R Puntigam (3km south of the city centre)- Bus Line 5 to the centre.
• P+R Zentralfriedhof (2km south of the city centre)- Bus lines 5, 67
• P+R Webling (3km south/west of the city centre)- Bus line 32
• P+R Weinzödl (4km north of the city) - Bus Line 52 to Central Station
​