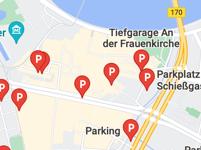 Dresden is the capital city of Saxony, situated in a valley on the River Elbe, near the Czech border. In the city centre on-street parking is unlimited on every day of the week.
What to see in Dresden
Popular destinations are the restored historic inner city of Dresden, with the Katholische Hofkirche, the Semper Oper and the Dresdner Frauenkirche.
On-street parking Dresden
Chargeable parking applies in the centre of Dresden:
• Monday-Sunday between 08.00-20.00 hours
• Parking rate Mon-Sat : € 0,50 per 20 min (€ 1.50/hour)
• Parking rate Sunday : € 0,50/hour
• Parking duration : unlimited
Car parks Dresden
Unlimited parking is set to car parks in the city centre. Parking rates in public car parks : € 1.00-2.00/hour, daily maximum € 9.00-20.00.
Read more.
P+R parkings Dresden
Free parking is available on the P+R's on the outskirts of the city with public transport to the city.
- Parkplatz Prohlis - Langer Weg - 01257 Dresden
- Parkplatz Bühlau - Quohrener Straße - 01324 Dresden
- Parkplatz Kaditz - Kätschenbroder Str. - 01139 Dresden