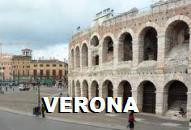 Verona is situated in north-eastern of Italy. It is one of the main Italian tourist destinations and is on the Unesco list of World Heritage Sites for its urban structure and architecture. Verona is also well known by the several annual fairs, shows, and operas, such as the lyrical season in the Arena, and the ancient amphitheatre built by the Romans.
On-street parking Verona
Chargeable street parking applies in the city centre and districts of San Zeno, Veronetta, Citadel and Borgo Trento :
- Monday-Sunday between 08.00-24.00 hours,
- Parking rate city centre (green zone) : € 1.50/hour
- Parking rate red zone (surrounding zones) : € 1.00/hour*
- Parking duration : 2 hours
* In the quarters Citadel and Borgo Trento the first 30 min are free.
Open air parking lots Verona
Unlimited parking is set to the several parking lots in and around the city centre: Piazzale XXV Aprile, Piazzale Guardini, Piazzale Olimpia, Viale Galliano, Via dell'Università, Via dello Zappatore, Via Città di Nimes, and Via Marcantonio Bassetti. Parking rates : € 1 for the first two hours of parking, € 3 for 5 hours, 5 € for the whole day).
Car parks Verona
Unlimited parking is set to car parks in the city centre. Parking rates in public car parks : € 2.00-4.00/hour. Lower rates apply for evening parking.
P1 -
Parking Arsenale
- Piazza Arsenale,8 - 37126 Verona
P2 -
Parking Arena
- Via M.Bentegodi,8 - 37122 Verona
P3 -
Parking Italia
- Corso Porta Nuova, 91 - 37122 Verona
P4 -
Parking Polo Zanotto
- Viale Università ,4 - 37129 Verona
P5 -
Autorimessa Paradiso
- Via Paradiso 13/a - 37129 Verona
P6 -
Parking Isolo
- Via Ponte Pignolo, 6/c - 37129 Verona
P7 -
Apcoa Parking Cittadella
- Piazza Cittadella - 37122 Verona