Valencia is the third largest city in Spain. The city is one of the major touristical destinations in the country and famous for the Fallas festival. Interesting places to visit are the basílica de la Virgen de los Desamparados, the palace of Almirantes de Aragón, the church San Juan del Hospital and the Convento de Santo Domingo.
More about Valencia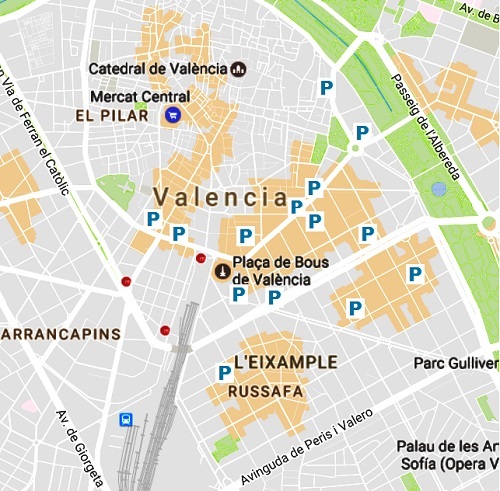 Parking in Valencia
Driving and parking is very difficult in the inner city of Valencia. The city offers few on-street parking facilities. You are advised to park in one of the multi-storey or underground car parks.
On-street parking in Valencia
Chargeable parking applies in the blue zones in the centre:
• Monday-Friday 09.00-14.00 and 16.00-20.00 hours
• Saturday 09.00-14.00 hours
• maximum parking duration : 2 hours
Parking rate districts Ciutat Vella, Eixample and Extramurs 1st hour € 1,00 , two hours € 1,70, in other blue zones € 0,80 up to € 1,50 for 2 hours.
Car parks in Valencia
Unlimited parking is set to the many underground car parks in the city centre. Parking rates : € 2.50/hour, daily maximum € 20.00 or more.
Read more.
Other cities in Spain
If you like to read more about the parking facilities and parking rates in more towns in Spain, please click on the picture of the city below