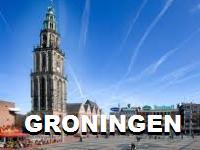 Groningen is a city in the nothern part of the Netherlands. It's historic city center is surrounded by a canal, the diepenring. Most of the sights are within this area, except the Central Railway Station. Driving and parking is difficult.
On-street parking in Groningen
Chargeable parking applies in the centre of Groningen:
- Monday-Wednesday between 09.00-22.00 hours
- Thursday-Saturday between 09.00-24.00 hours
- Maximum parking duration : 30-60 min, pending on zone
- Parking rate : € 2.50/hour
Car parks in Groningen
Unlimited parking is set to the car park in the city centre. Parking rates in public car parks : € 2.10-3.50/hour.
Read more.
P+R Parking Groningen
Groningen offers free parking at one of the P+R parking lots on the outskirts of the city. Public transport for a maximum of 5 persons costs just € 6.00.
Read more.
Other cities in the Netherlands
If you like to read more about the parking facilities and parking rates in more towns in the Netherlands, please click on the picture of the city below.