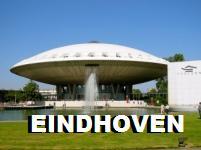 Eindhoven is situated in the province of North-Brabant. The city is a European technology hub, hosting a technical university and many technically oriented companies (Philips). The city also known as the capital of Dutch design.
On-street parking in Eindhoven
Chargeable parking applies in the centre of Eindhoven:
- Monday-Sunday between 09.00-21.00 hours
- Maximum parking duration : unlimited
- Parking rate : € 2.20, pending on zone.
In the area surrounding the city centre the parking rate is € 1.20/hour.
Parking lots Eindhoven
Unlimited parking is set to the parking lots of Eindhoven near the city centre (€ 3.70-6,70 per day). Please note that parking lot Keizersgracht is expensive with hourly charge of € 3,00.
Car parks in Eindhoven
Unlimited parking is also set to the car parks in the city centre. Parking rates are : € 2,50/hour, daily maximum € 14,00.
Read more.
Other cities in the Netherlands
If you like to read more about the parking facilities and parking rates in more towns in the Netherlands, please click on the picture of the city below.