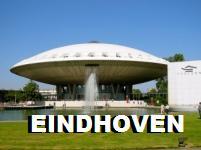 Eindhoven is situated in the province of North-Brabant. The city is a European technology hub, hosting a technical university and many technically oriented companies (Philips). The city also known as the capital of Dutch design.
Parking in Eindhoven
Paid parking on-street is set every day of the week. Good capacity is offered in several car parks and parking lots as there are on the Stationsweg West/Oost, Vonderweg, Tramstraat, Wilhelminaplein, De Rungraaf and Deken van Somerenstraat.
On-street parking in Eindhoven
Chargeable parking is set in the centre of Eindhoven:
- Monday-Sunday between 09.00-21.00 hours
- Maximum parking duration : unlimited
- Parking rate : € 2.20/hour.
In the area surrounding the city centre the parking rate is € 1.20/hour.
Parking lots Eindhoven
Unlimited parking is set to the parking lots of Eindhoven near the city centre (€ 3.70-6,70 per day). Please note that parking lot Keizersgracht is expensive with hourly charge of € 3,00.
Car parks in Eindhoven
Unlimited parking is also set to the car parks in the city centre. Parking rates are : € 2,50/hour, daily maximum € 14,00.
Read more.
​