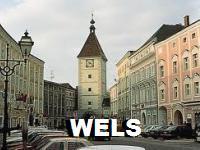 Wels is the second largest city of the state of Upper Austria, north Austria, on the Traun River near Linz. Wels has many on-steet parking spaces and in car parks. The modern parking guidance system wil help you with your favourite place.
On-street parking in Wels
Chargeable parking applies in the city centre of Wels :
• Monday-Friday between 08.00-12.00 and 13.00-18.00 hours
• Saturday between 08.00-12.00 hours
• maximum parking duration : 2 hours
• parking rate : € 0,50 per 30 min. (max € 1,00 for 2 hrs)
(10 minutes free parking in the metered short stay zones)
Free parking
Free parking on Saturdays from 12:00 hours as well as on Sundays and public holidays in all metered zones.
Free parking spaces in the trade fair centre, close to the city centre on days when no fair is being held
Car parks in Wels
If you prefer long-term parking, the car parks in the city centre are the best options. The parking rates are € 0,50 to € 1,80 per hour, the maximum daily rate is € 8,75.
Read more