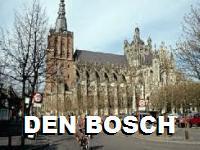 Den Bosch is the capital of the province of North Brabant, located in the south of the Netherlands. Den Bosch is a medieval city and among the oldest cities in the Netherlands. It's a fantastic place for shopping, especially at weekends.
Parking in Den Bosch
Chargeable parking is set in a large part of Den Bosch ('s Hertogenbosch). The center, however, offers few on-street parking facilities. If you intend to park here, you'd better use one of the car parks or one of the very cheap P+R's on the edge of the center of Den Bosch.
On-street parking in Den Bosch
Paid parking applies in the center of Den Bosch :
- Monday-Saturday between 09.00-24.00 hours
- Sundays 14.00-24.00 hours
- maximum parking duration : UNLIMITED
- parking rate city centre : € 2.00-2.50/hour, pending on location
Car parks in Den Bosch
Unlimited and guarded parking is set to car parks in the city centre. Parking rates in public car parks : € 1.00-3.00/hour, daily maximum € 20.00.
Read more.
P+R parkings Den Bosch
Very cheap parking is available on 3 parking lots on the outskirts of the city. Parking included public transport for 4 persons to the city for a promotional fee of just € 4,00.
-
P+R Willemspoort
- Vlijmenseweg 10 - 5223 GW Den Bosch
-
P+R De Vliert
- Stadionlaan 9 - 5213 JH Den Bosch
-
P+R Pettelaarpark
- Pettelaarpark 59 - 5216 PP Den Bosch
​