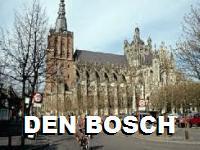 Den Bosch is the capital of the province of North Brabant, located in the south of the Netherlands. Den Bosch is a medieval city and among the oldest cities in the Netherlands. It's a fantastic place for shopping, especially at weekends.
On-street parking in Den Bosch
Chargeable parking applies in the centre of Den Bosch :
- Monday-Saturday between 09.00-24.00 hours
- Sundays 14.00-24.00 hours
- maximum parking duration : UNLIMITED
- parking rate city centre : € 2.00-2.50/hour, pending on location
Car parks in Den Bosch
Unlimited and guarded parking is set to car parks in the city centre. Parking rates in public car parks : € 1.00-3.00/hour, daily maximum € 20.00.
Read more.
P+R parkings Den Bosch
Very cheap parking is available on 3 parking lots on the outskirts of the city. Parking included public transport for 4 persons to the city for a promotional fee of just € 4,00.
-
P+R Willemspoort
- Vlijmenseweg 10 - 5223 GW Den Bosch
-
P+R De Vliert
- Stadionlaan 9 - 5213 JH Den Bosch
-
P+R Pettelaarpark
- Pettelaarpark 59 - 5216 PP Den Bosch
Other cities in the Netherlands
If you like to read more about the parking facilities and parking rates in more towns in the Netherlands, please click on the picture of the city below.