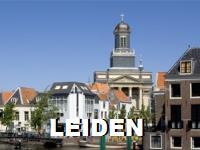 Leiden is a town in the Netherlands. The city is known for its oldest university in the country, the birthplace of Rembrandt and its beautiful, old city centre. Unlimited on-straat parking is set to the city centre.
On-street parking in Leiden
Chargeable parking applies in the centre of Leiden :
- Monday-Saturday between 09.00-21.00 hours
- Sunday between 13.00-21.00 hours
- maximum parking duration : unlimited
- parking rate : € 2.60/hour, daily maximum € 12,80.
In the area surrounding the city centre the parking rate vary from € 1.60/hour to € 2.10/hour, pending on the zone.
Car parks in Leiden
Parking rates in public car parks : € 1.50-2.00/hour, daily maximum € 15.00.
Read more.
Other cities in the Netherlands
If you like to read more about the parking facilities and parking rates in more towns in the Netherlands, please click on the picture of the city below.