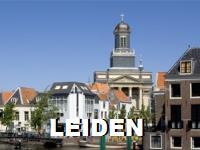 Leiden is a town in the Netherlands, known for its oldest university in the country, the birthplace of the dutch famous painter Rembrandt and its beautiful old city centre. Popular are the National Museum of Antiquities, National Museum of Ethnology, Museum Boerhave, Museum Lakenhal and Museum Naturalis.
Parking in Leiden
The inner city of leiden is partly a car-free zone. On-street parking is possible on the parking lots and in one the car parks. Cheap parking is set to P+R Haagweg.Public transport to the inner city is available.
On-street parking in Leiden
Chargeable parking applies in the centre of Leiden :
- Monday-Saturday between 09.00-21.00 hours
- Sunday between 13.00-21.00 hours
- maximum parking duration : unlimited
- parking rate : € 2.70/hour, daily maximum € 13.20/> In the area surrounding the city centre the parking rate vary from € 2.00/hour.
Parking capacity for visitors is available on parking lots Garenmarkt, Kaasmarkt, Lammermarkt, Langegracht, Molen de Valk and Morssingel.
Special offer:
parking lot P+R Haagweg (Haagweg 8 - Leiden) with free shuttle bus service to the city centre. Parking fare with free bus transport : € 12.00/24 hrs. ​
Car parks in Leiden
Parking rates in public car parks : € 1.50-2.00/hour, daily maximum € 15.00.
Read more.
​