Berlin is the capital city of Germany and a major center of culture, politics, media and science, and one of the most visited touristical destinations in Europe. On-street parking in the city centre is difficult.
What to see in Berlin
Interesting places to see are the Reichstag, Brandenburger Tor, Alexanderplatz, Checkpoint Charlie, the Berlin Wall, the Gedächtniskirche, Potsdamer Platz, the Berliner Dom, the Pergamon Museum, the Berlin Zoo, the Holocaust Memorial, Bebelplatz.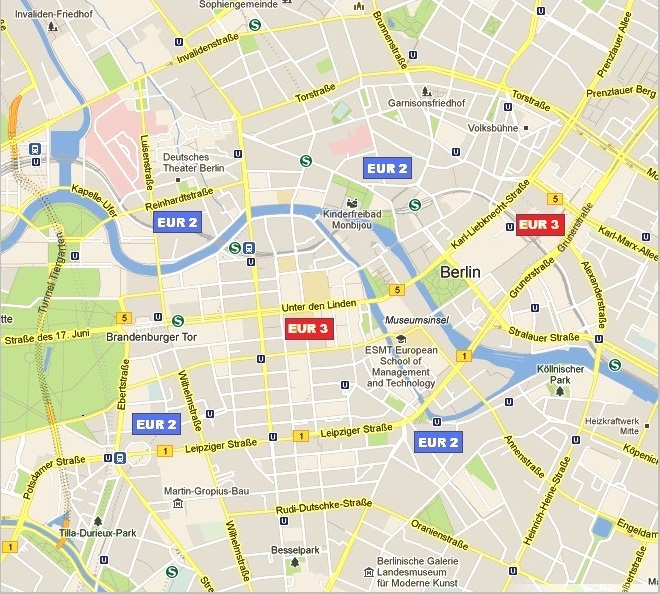 On-street parking Berlin City Centre
Chargeable parking applies in the area Unter den Linden/Friedrichstraße/ Gendarmenmarkt and Alaxanderplatz :
• Monday-Saturday 09.00-22.00/24.00 hours
• parking rate is € 0,75 /15 min (€ 3,00/hour).
In some busy areas paid parking is set even on Sundays.
In the area around the city centre paid parking applies from :
• Monday-Friday between 09.00-20.00 hours
• Saturday between 09.00-14.00/18.00 hours
• Parking rate is € 0.25-0,50 per 15 min.
Cheap parking Berlin
Outside the district Mitte-Tiergarten-Wedding unlimited and free parking places can be found quite easily. Cheap or free parking is also set near all U and S-bahn stations in the outskirts of Berlin.
P+R Parking Berlin
The P+R locations close the tram stations offer free or at least very cheap but unguarded parkings spaces. If applicable, the rates € 0.50-1.50 p. day.
Read more.
Car parks city centre Berlin
Berlijn offer a very big capacity of parking places in the city centre. Parking rates in public car parks : € 1.00-4.00/hour, daily maximum € 10.00-35.00. More expensive are the hotelgarages.
Read more.