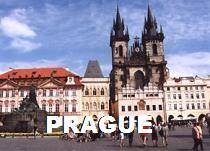 Prague is the capital the Czech Republic, situated on the Vltava river. Parking is limited in the city centre in different colour zones. Orange for two-hour parking, green for six-hour parking and blue zones reserved residents. Cheap parking is set on the park and ride locations on the outskirts of the city with cheap public transport to the city centre.
On-street parking in Prague
Chargeable parking applies in districts 1,2,3 and 7, in 2 parking zones :
Orange zone (max 2 hrs )
: Monday-Saturday between 08.00-18.00 hrs
- parking rate : 10 CZK per 15 min (40 CZK/hour)
Green zone (max 6 hrs)
: Monday-Friday between 08.00-18.00 hrs
- parking rate : 30 CZK/hour
Free parking Prague
Free parking is settled in the district Prague 5 (streets Janackovo nabrezi, Zborovska, Stefanikova). The walking distance to the centre is about 20 min.
The Blue Zone in Prague
In the blue zones parking is only allowed to residents with a special long parking permit.
Car parks in Prague
Long term parking is set to the car parks in the centre. Parking rates are 20-50 CZK/hour, daily maximum is 200-700 CZK.
Read more.
P+R Prague
Cheap parking is available on the outskirts of the city at one of the guarded and secured P+R locations, all near a metrostation. Parking rates: 20 Kč (0.80 EUR) per day.
Read more.