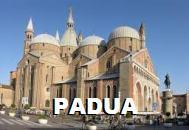 Padua is situated in North Eastern Italy, located centrally in the Veneto region, between Venezia on one side and Vicenza and Verona on the other. The city is the capital of the province of the same name. TRhe city centre is a ZTL (ZONA TRAFFICO LIMITATO) where visitors are not allowed to park.
ZTL zone Padua
Padua has a restricted area (ZTL) in the centre where driving is authorized only to local inhabitants or to individuals destined for a hotel in the restricted zone. The ZTL-zone in Padua is controlled by video cameras. The zone is active every day of the week, 24 hours per day.
Map ZTL
On-street parking Padua
Paid parking applies in the area adjacent to the ZTL zone of Padua :
- Monday-Sunday between 08.00-20.00 hours
- Parking rate : € 1.10-1.70/hour, pending on zone
- Parking duration : unlimited
Parking on-street is set to the parking bays with blue lines.
Car parks Padua
Unlimited parking is set to car parks in the city centre. Parking rates in public car parks : € 2.00-4.00/hour. Lower rates apply for evening parking.
Read more.