Turin is situated in the Piedmont region of northwestern Italy. It is also an important city of technology and industry. Interesting sites to visit are Piazza Castello, the Mole Antonelliana and the Palazzo Carignano, which houses the Museum of the Risorgimento.
MORE ABOUT TURIN
Parking in Turin
On-street parking in Turin is only allowed along streets with blue lines. Parking tickets to be purchased from tabacchi, news papers shops, cafes and parking officials. The inner centre of Turin is a ZTL (Zone Traffico Limitato).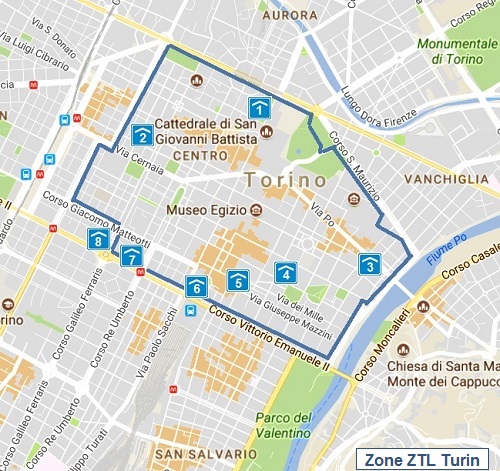 ZTL Zone Turin ("Zona Traffico Limitato")
Turin has a restricted area ZTL in the city centre where driving is authorized to permit holders only. The ZTL is controlled by video cameras. If you stay in a hotel in the ZTL, ask your hotel to assist you with the registration of the license plate number of your car.
On-street parking Turin

Paid parking applies in the city centre of Turin on Monday-Saturday from 08:00-19:30. Parking rate : € 1.30-2.50/hour, pending on zone.

On Piazza Carlo Felice, Piazza Lagrange and Piazza Paleocapa paid parking is set from 08:00-24:00 and in the area central station FS Porta Nuova from 07:00-23:00.
Car parks Turin
Unlimited parking is set to car parks in the center. Rates : € 1.00-2.00/hr. Cheap rates apply for evening and overnight parking (after 20:00).
1 -
Santo Stefano
- Porta Palatina - 10122 Turijn
2 -
Arbarello
- Piazza Vincenzo Arbarello - 10122 Turijn
3 -
VITTORIO PARK
- Piazza Vittorio Veneto
4 -
Valdo Fusi
via San Francesco da Paola - 10123 Turijn
5 -
BODONI
- Piazza Bodoni - 10123 Turijn
6 -
ROMA S.CARLO CASTELLO
- Porta Nuova/Piazza Castello
7 -
Re Umberto
- corso Re Umberto - 10128 Turijn
8 -
GALILEO FERRARIS
- corso Galileo Ferraris