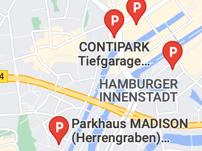 Hamburg is the second largest city of Germany after the capital Berlin. The city is rich in history, beauty and vibrant night life. Parking in the city centre is possible on street and in car parks, but expensive. Cheap parking at P+R locations.
On-street parking Hamburg
Chargeable parking applies in the centre of Hamburg:
• Monday-Sunday between 09.00-20.00 hours
• Parking rate city centre: € 1,50 per 30 min (€ 3.00/hour)
• Parking rate surrounding area : € 1,00 per 30 min (€ 2.00/hour)
• Parking duration : unlimited
Cheap parking is possible on walking distance from the centre, behind the Central Train Station : € 5.00/day.
Car parks city centre of Hamburg
Unlimited parking is set to car parks in the city centre. Parking rates in public car parks : € 2.50-4.50/hour.
Read more.
P+R parkings Hamburg
Free parking is available on the P+R's on the outskirts of the city with public transport to the city.
Read more.