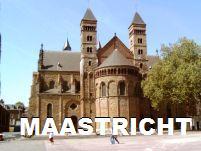 Maastricht is the capital of the province of Limburg in the south of the Netherlands, well known for its magnificent buildings and culture, its fine cuisine, excellent shops and multicultural atmosphere. Popular are the shoppings in the inner city.
Parking in Maastricht
In a great part of Maastricht paid parking applies for visitors. On-street paarking in the inner city is limited. For a longer stay you are advised to park in one of the car parks. Cheap are the so called Park and Walk parking lots on walking distance from the inner city. The parking-information system indicates where capacity is available.
On-street parking in Maastricht
Chargeable parking applies in the city centre of Maastricht :
- Mon-Sat between 08.00-18.00 hours (21.00 on Thursday)
- Shopping Sundays 12.00-17.00 hours
- maximum parking duration : 2-4 hours, pending on location
- parking rate city centre : € 2.60/hour
In the surrounding area around the centre unlimited parking applies for a rate of € 1.40/hour, daily maximum € 6.00.
Parking Lots Maastricht
Maastricht offers cheap parking on so called Park and Walk lots, on walking distance from the city centre. Parking rates are about € 1.50/hour, daily max € 8.00.
These parking lots are situated along the Cabergerweg, Kennedy Bridge (Kennedybrug), and Northern Bridge (Noorderbrug).
Car parks in Maastricht
Unlimited parking is set to car parks in the city centre. Parking rates in public car parks : € 2.20-3.50/hour, daily maximum € 22.00-35.00
Read more.
​