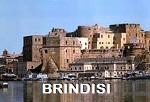 Brindisi, located in the south of Italy, is the capital of the province of Brindisi and is situated on the coast of the Adriatic Sea. The ancient city is a major port with connections to the southeastern part of Europe. Popular sites to visit are the Church of Santa Maria degli Angeli, the cathedral Basilica of Visitation and St. John the Baptist.
Parking in Brindisi
in
A ZTL zone is etablished in Via Regina Margherita and nearby streets, and Sciabiche. The zone is active every day from 00.00-24.00 hours and is controlled by video cameras. Without a permit the ZTL zone is prohibited to visiting car drivers at all times.
If you stay in a hotel in the ZTL, ask your hotel to assist you with the registration of your license plate number of your car.
On-street parking Brindisi
In the Old Town paid parking applies on parking bays with blue lines :
- monday-saturday 08.00-14.00 and 16.00-18.00 hours
- parking rate : € 1.00/hour
Parking rate in the area outside the Old Town is € 0.50/hour.
On parking bays with white lines parking is free of charge.
Car parks Brindisi
Unlimited parking is set to car parks in the city centre. Parking rate in public car parks around EUR 2,- per hour.
P1 - Il Mondo - 6, Vico Morone - 72100 Brindisi
P2 - Garage Italia - 5, Via San Dionisio - 72100 Brindisi
P3 - Garage Adriatica - 16, Vico Sacramento - 72100 Brindisi
P4 - Parcheggio Porta Napoli - 28, Via Dè Carpentieri - 72100 Brindisi
P5 - Garage Aldo Moro - 45, Viale Moro Aldo - 72100 Brindisi