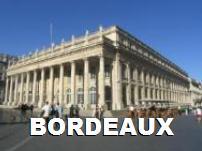 Bordeaux is located on the Garonne River, in the Gironde department, in southwestern France. The city is famous for its wine production. Bordeaux is on the UNESCO World Heritage List with a high number of historical buildings.
MORE ABOUT BORDEAUX
Parking in Bordeaux
Paid and limited street parking applies in the centre. Cheap parking is offered on the outskirts of the city at several P+R locations by Trams de Bordeaux.
On-street parking Bordeaux
Chargeable parking applies in the centre of Bordeaux :
• Monday-Saturday between 09.00-19.00 hours
• Max. parking duration historical centre : 2 hour
• Parking rate : € 2.20/hour
In the surrounding area around the historical centre you may park to a maximum of two hours at a rate of € 1.70/hour
Car parks Bordeaux
Unlimited parking is set to car parks in the city centre. Parking rates in public car parks : € 2.00/hour in the city centre.
READ MORE
P+R-parkings Bordeaux
Cheap parking and public transport to the city centre is offered by Trams de Bordeaux : € 2,60 for parking incl.public transport of all car passengers.
READ MORE