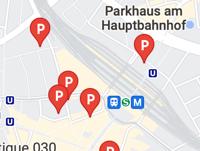 Hannover is the capital of Niedersachsen. The city is known by the expo building Hannover Messe and has many great sights with great gardens. Limited on-street parking applies in the city centre and unlimited parking on parking lots.
On-street parking Hannover
Chargeable parking applies the inner city centre of Hannover:
• Monday-Saturday between 09.00-19.00 hours
• Max parking duration: 2,5 hours (parking lots: unlimited)
• Parking rate : € 0,90 per 30 min ( € 1,80/hour)
Unlimited parking is set to parking lots Köbelinger Markt, Klagesmarkt and Marstall.
Car parks Hannover
Unlimited parking is also set to car parks in the city centre. Parking rates in public car parks : € 1.20-2.00/hour.
Read more.