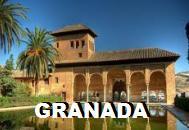 Granada is located in the Andalucia region of Spain. Rich in history and culture, Granada is arguably the single most worthwhile city in Spain for a tourist. Most popular destination is the Alhambra. Parking is partly allowed in the city centre for non-residents.
Parking in Granada
Parking is difficult in the center of Granada. Acces to Recojidas, Gran Vía, Plaza Nueva, Reyes Católicos, Elvira street, San Matias, and the neighborhood of the Albaicin and the Sacromonte is mainly permitted to residents and public transport, not for non-residents. It is best to leave your car in a public car park or further away from the center and use the cheap bus to get around town.
On-street parking in Granada
Chargeable and limited parking applies in the centre of Granada :
• Monday-Friday between 09.00-14.00 and 17.00-20.00 hours
• Saturday between 09.00-14.00 hours
• Maximum parking duration : 2-5 hours, pending on zone
• Parking rate red zone (max 1 hrs) : € 0.90/hour
• Parking rate blue zone (max 2 hrs) : 1st hour € 0.90, two hours € 1.80
• Parking rate green zone (max 5 hrs) : 1st hour € 0.70, five hours € 1.45
Car parks in Granada
Unlimited parking is set to the car parks in the city centre. Parking rates : € 1.15-2.55/hour, daily maximum € 18.00-25.00, pending on location.
Read more.
Other cities in Spain
If you like to read more about the parking facilities and parking rates in more towns in Spain, please click on the picture of the city below