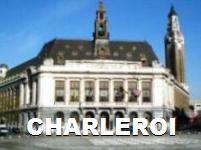 Charleroi is the biggest city in Wallonia and the third-biggest city in Belgium. Charleroi is an important centre for communications and transport by motorway and rail and on the river Sambre.
Parking in Charleroi
Free parking in the city centre of Charleroi doesn't exist, but it is still available on a couple of parking lots on walking distance from the center. Limited street parking applies in the city centre. For a longer stay you are advised to parking in one of the car parks.​
On-street parking Charleroi
Chargeable parking applies :
• monday-saturday 09.00-17.00 hours.
• The maximum parking duration is 2 hours.
• Parking rates: 1 hour € 1.00, 2 hours € 3.50.
First 30 minuten is free of charge.
Free parking Charleroi
Free parking is possible on parking lots Place West, La Villette and Helios.
In case of no events free parking is also set on the parking lots P1-P4 near the Charleroi Palais des Expositions from Monday to Saturday.
Car parks in Charleroi
Long term parking is available in the car parks of Charleroi. Parking rates : € 1,20-1,60/hour, daily maximum is € 10,00-18,00.
Read more.