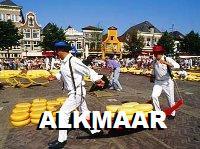 Alkmaar is a historic city in the Province of North Holland. The city center preserves the 17th-century pattern of canals and narrow streets, and has many historic buildings. The nearby beaches and dunes reserves are easily accessible from Alkmaar itself.
On-street parking in Alkmaar
Chargeable parking applies in the centre of Alkmaar :
- Monday-Saturday between 09.00-21.00 hours, Sundays 12.00-17.00 hours
- rate: € 2.55/hr (Friday and Saturday after 1800 hrs € 3,20/hr)
- parking duration : 2 hrs (3 hrs around the centre).
Parking lots Alkmaar
Cheap parking is available at the parking lots Parcade, Pettermerstraat, Jagerstraat, Koedijkerstraat and P+R AZ Soccer Stadium(P7). Parking rate : € 0.65/hour, daily maximum € 3.20. On Saturday free publiuc transport is available to the city centre.
P+R parking Alkmaar
Free parking and free public transport is set to P+R Oudorp (Keesomstraat) and P+R Bergermeer (Robonsbosweg).
Car parks in Alkmaar
Unlimited parking is set to car parks in the city centre. Parking rates in public car parks : € 1.80-2.00/hour, daily maximum € 14.00-15.00. Cheap rates are set for evening and weekend parking.
Read more.
Other cities in the Netherlands
If you like to read more about the parking facilities and parking rates in more towns in the Netherlands, please click on the picture of the city below.