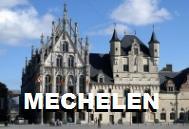 Mechelen is situated in the province of Antwerp. Mechelen is one of Flanders' historically prominent art cities. The inner city with several historical monuments is a car-free zone. In the surrounding area parking is chargeable and limited.
Parking in Mechelen
The inner city of Mechelen is a car-free zone. Traffic is not permitted between 11.00 and 18.00 hours. On the city ring signs will lead you to the car parks, which are on short walking distances from the inner city.
On-street parking Mechelen
Chargeable parking applies:
• Monday-Saturday between 09.00-19.00 hours.
• max. parking duration : 2 hours
• parking rate: 1 hour : € 1.70, 2 hours € 3,90.
Free parking Mechelen
In the blue zones around the city centre you may park 2 hours for free with your international blue disc on Monday-Friday between 09.00-18.00 hours.
Car parks in Mechelen
Unlimited parking is set to car parks, parking rates : € 2.30/hr, daily max € 16.00.
Read more.