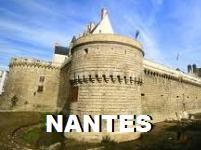 Nantes is the capital of the north-western French region of Pays de la Loire. Popular sites are the the castle Des Ducs de Bretagne, the Cathedral of Saint-Peter and Saint-Paul, the Jules Verne museum and the Fine Art Museum.
MORE ABOUT NANTES
Parking in Nantes
​ On-street parking in the city centre of Nantes is chargeable and limited. For al longer stay you have to park in one of the car parks in het centre. The parking capacity is limited in the city centre and at rail way station. Free parking is available on the outskirts of the city.
On-street parking Nantes
Chargeable parking applies in the centre of Nantes in 2 parking zones :
Red Zone (city centre)
- Monday-Saturday between 09.00-19.00 hours
- maximum stay 2 hrs, rate € 2,30 for the first hour, 2 hours € 4,60
Green Zone (area central station) :

- Monday-Saturday between 09.00-12.00 and 14.00-19.00 hours
- Maximum stay : 3 hrs , rate : one hour € 1.50, 3 hours € 4.00
Car parks Nantes
Unlimited parking is set to car parks in the city centre. Parking rates in public car parks : € 2.00/hour, daily maximum € 13.50.
READ MORE
​