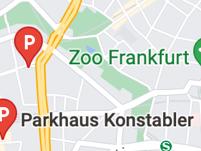 Frankfurt is situated in the state of Hessen. On-street parking in the city centre is hardly possible. We advise you to visit one of the car parks in this area of one of the cheap P+R's on the outskirt of the city.
What to see in Frankfurt
Popular touristical destinations are the Römerberg (old town) , the Saint Bartholomeus' Cathedral, Eiserner Steg (Iron bridge), the Alte Oper (Old Opera), Börse (Frankfurt Stock Exchange), and the Paulskirche (St. Paul's Church).
On-street parking Frankfurt
In the inner city city of Frankfurt paid parking is set :
• from Monday to Sunday 00.00-24.00 uur.
• parking rate : € 1.00 per 20 min. (€ 3.00/hour)
Car parks Frankfurt
Unlimited parking is set to car parks in the city centre. Parking rates in public car parks : € 1.00-3.00/hour. Special cheap raates are applicable for the evening, overnight and weekend.
Read more.
P+R parkings Frankfurt
Free parking is available for trtavellers with the RMV trains. Some P+R's charge with parking rates of € 1.50-3.00/day.
Read more.