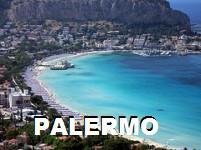 Palermo is the capital of Sicily. It's a fast, brash and exciting city, a mix of arabic and viking influences. Parking in the centre of Palermo is only permitted along streets with the blue lines.
What to see in Palermo
Popular tourist destinations are the Palazzo dei Normanni, the Quattro Canti (a nice example of Baroque architecture) and the Catacombs, the Monastery and Cathedral of Monreale in the nearby village of Monreale.
On-street parking Palermo
Chargeable parking applies in the centre of Palermo :
- Monday-Friday between 08.00-14.00 and 16.00-20.00 hours
- Parking rate : € 0.50-1.00/hour
- Parking duration : unlimited
In the area Piazzale Ungheria and Via Basile the parking rate is € 2.00/hour.
Car parks Palermo
Unlimited parking is set to car parks in the city centre. Parking rates in public car parks : € 1.00-1.50/hour.
1- Park Panno - Via Delle Croci,22 - 90139 Palermo
2 - Molo Santa Lucia - Varco St. Lucia - 90139 Palermo
3- Parcheggio Facile - Via Garzilli Nicolò, 40/D - 90141 Palermo
4- Garage Mercurio - Via Garzilli Nicolò, 39 - 90141 Palermo
5 - Parcheggio Postabile - Via Mariano Stabile, 10 - 90139 Palermo
6 - Garage Welcome - Via Guardione Francesco, 12/B - 90139 Palermo
7 - Autorimessa Sama - Via Guardione Francesco, 81 - 90139 Palermo
8 - Parcheggio Ungheria - Piazzale Ungheria - 90141 Palermo
9 - Europarking - cortile Gucciardi, 3 - 90138 Palermo
10 - Autorimessa Ranzano - Via Ranzano Pietro, 40 - 90138 Palermo
11 - Porta Montalto - Via sulle Mura di Porta Montalto, - 90134 Palermo
12 - Garage Muratore - Piazza Giulio Cesare, 43 - 90127 Palermo
13 - Garage Cicio - Via Pavia, 5 - 90138 Palermo