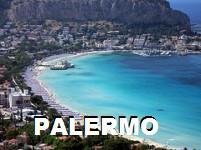 Palermo is the capital of Sicily. It's a fast, brash and exciting city, a mix of arabic and viking influences. Popular tourist destinations are the Palazzo dei Normanni, the Quattro Canti (a nice example of Baroque architecture) and the Catacombs, the Monastery and Cathedral of Monreale in the nearby village of Monreale.
parking in Palermo
Parking in the centre of Palermo is only permitted along streets with the blue lines. The best chance for a parking place is on Monday morning or Sunday (when the shops are closed) or early afternoon during lunch time. Saturday afternoon can be very difficult.
On-street parking Palermo
Chargeable parking applies in the centre of Palermo :
- Monday-Friday between 08.00-14.00 and 16.00-20.00 hours
- Parking rate : € 0.50-1.00/hour, pending on zone
- Parking duration : 3 hours to unlimited
Viale Basile: paid parking 08.00-20.00 hours, € 2.00/hr.
Parking tickets (scheda di parcheggio) can be bought at the tobacconists, bars or shops (or from an unofficial parking "helper").
Car parks Palermo
Unlimited parking is set to car parks in the city centre. Parking rates in public car parks : € 1.00-1.50/hour, maximum day rate (24 hours): € 10.00-15.00.
Read more.
More cities in Italy
If you would like to read more about the parking facilities and parking rates in other cities in Italy, please click on the picture of the city.