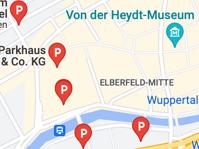 Wuppertal is located in and around the Wupper river valley in the state North Rhine-Westphalia, east of Düsseldorf. Wuppertal is a major industrial centre, being home to may industrial companies. On-street parking is limited in the city centre.
On-street parking Wuppertal
Chargeable parking applies the centre of Wuppertal :
• Monday-Friday between 10.00-18.00 hours
• Saturday between 10.00-14.00 Hours
• Parking rate city centre : € 1.50/hour
• Maximum parking duration : 2 hours
Car parks Wuppertal
Unlimited parking is also set to car parks in the city centre. Parking rates in public car parks : € 0.60-1.80/hour.
Read more.
P+R Wuppertal
• P+R Adlerbruecke (Schwebebahn-Haltestelle)
• P+R Barmen (Bahnhof)
• P+R Langerfeld (Bahnhof)
• P+R Oberbarmen (Bahnhof)
• P+R Silberkuhle (Bushaltestelle)
• P+R Sonnborn (S-Bahn Haltepunkt)
• P+R Sonnborner Ufer (Schwebebahn-Haltestelle)
• P+R Unterbarmen (Bahnhof)
• P+R Velbert-Rosenhuegel (Bahnhof)
• P+R Vohwinkel (Bahnhof)
• P+R Waldeckstrasse
• P+R Woelfrath-Aprath (Haltepunkt)
• P+R Zoo/Stadion (Haltepunkt)