The city of Luxembourg is the capital of the country of Luxembourg. It is located in southern Luxembourg. The city contains the historic Luxembourg Castle, established in the Early Middle Ages. Parking in the city is limited on street.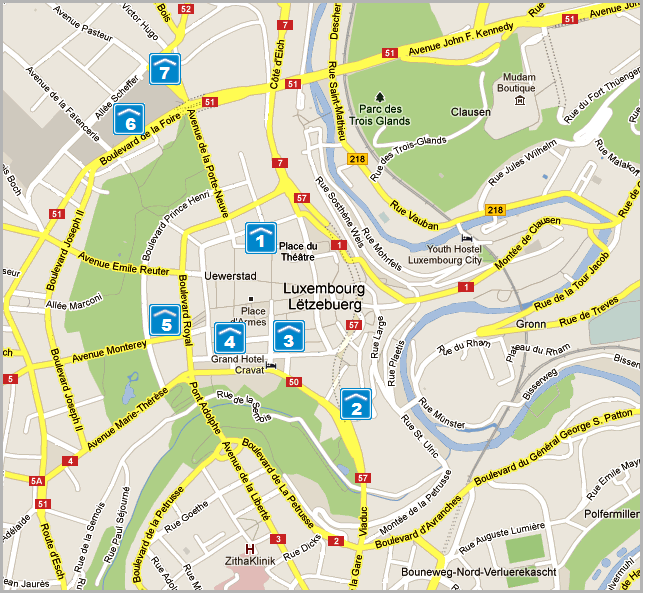 On-street parking Luxembourg
Luxemburg city centre is rather small with limited parking capacity. Chargeable parking set to the centre on Monday-Saturday between 08.00-18.00 hours. Maximum parking duration : 2 hours.
P + R-parkings Luxemburg
Cheap or even free parking is set to the P+R's on the outskirts of the city. Public transport to the city centre is available.
• P+R Bouillon
• P+R Kockelscheuer
• P+R Luxembourg-Sud
• P+R Kirchberg
• P+R Beggen
Car parks Luxembourg
Unlimited parking is set to car parks, parking rates : € 1.50/hour. After 18.00 hours a lower rate applies.
1 - Parking du Théâtre – 1 rue Beaumont - L-1219 Luxembourg
2 - Parking du St Esprit – 8 Bld Franklin D. Roosevelt - L-2450 Lux
3 - Parking Knuedler - 15 rue Notre-Dame - L-2240 Luxembourg
4 - Parking Aldringen – 29 rue Aldringen - L-1118 Luxembourg
5 - Parking Monterey - 28 Avenue Monterey, L-2163 Luxembourg
6 - Parking du Glacis – 21 Allée Scheffer- L-2520 Luxembourg
7 - Parking Schuman – 49 Allée Scheffer - L-2520 Luxembourg