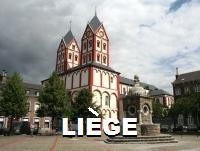 Liège is situated in the valley of the Meuse River, near Belgium's eastern borders with the Netherlands and Germany. It is the principal economic and cultural centre of Wallonia. Parking on-street in the centre is limited and cheap.
Parking in Liege
Chargeable and limited parking is set to the centre area of Liege. Parking is free on Sundays. The parking `rates are low. For longer stay you are advised to park in the more expensive (multi-storey) car parks in the centre.
On-street parking Liège
Chargeable parking applies:
• Monday-Saturday between 08.00-12.30 and 13.30-18.00 hours.
• max. parking duration : red zone 90 min, green zone 4 hours
• parking rate: € 0,25 per 15 min (€ 1,00/hour).
Car parks and parking lots in Liège
Unlimited parking is set to car parks, parking rates : € 1.00-2.00/hr. Special rates for day,evening and overnight parking apply.
Read more.