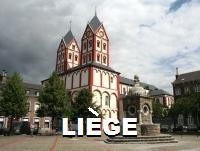 Liège is situated in the valley of the Meuse River, near Belgium's eastern borders with the Netherlands and Germany. Liege has a very attractive shopping center. Other popular destinations such as Place du Marché, the Collegiate Church of St. Bartholomew, la rue du Carré and La cour Saint-Antoine.
MORE ABOUT LIEGE
Parking in Liege
​ Chargeable and limited parking is set to the cental area of Liege. Parking is free on Sundays. The parking `rates are low. For longer stay you are advised to park in the more expensive (multi-storey) car parks in the city center.
On-street parking Liège
Chargeable parking applies:
• Monday-Saturday between 08.00-12.30 and 13.30-18.00 hours.
• max. parking duration : red zone 90 min, green zone 4 hours
• parking rate: € 0,25 per 15 min (€ 1,00/hour).
Car parks and parking lots in Liège
Unlimited parking is set to car parks, parking rates : € 1.00-2.00/hr. Special rates for day,evening and overnight parking apply.
READ MORE.
​ ​