Strasbourg is the capital of the Alsace region, Its historical centre (the Grande Île) is on the World Heritage list of UNESCO. The city itself is the seat of the Council of Europe and the European Parliament, which also holds sessions in Brussels.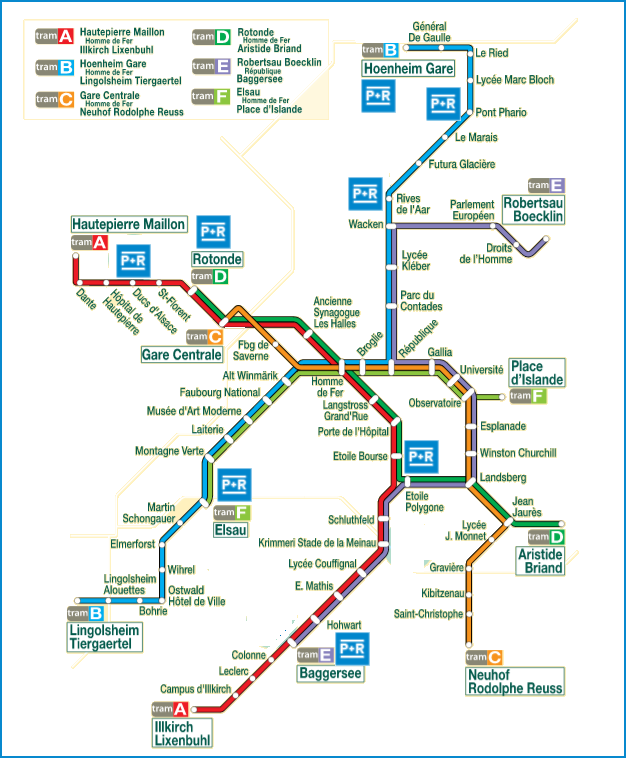 P+R-parkings Strasbourg
Near tramway stations you can park and take the the public transport to the centre. The daily Park and ride's entrance fee grants 7 passengers with a return ticket to be used on the tramway network. Parking fee plus free tram tickets : € 3.50 (P+R Rotonde € 4.00).
The P+R car parks are open mondays to saturdays from 7 am to 8 pm, exit possible 24 hours a day ( P+R Rotonde from 05.30- 01.30am). Parking is limited to one day.
- P+R Rotonde - Rue de la Rotonde - 67000 Strasbourg
- P+R Etoile - Place d'Étoile - 67100 Strasbourg
- P+R Baggersee - Route Alfred Kastier - 67000 Strasbourg
- P+R Elsau - Rue Charles Winter - 67000 Strasbourg
- P+R Hoenheim Gare - Route de la Wantzenau - 67000 Strasbourg
- P+R Pont Phario - Rue de l'Ill - 67000 Strasbourg
- P+R Ducs d'Alsace - Rue des Ducs - 67000 Strasbourg
- P+R Rives de l'Aar - Rue du Wacken - 67000 SStrasbourg
More cities in France
If you would like to read more about the parking facilities and parking rates in other cities in France, please click on the picture of the city.