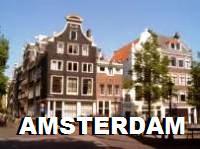 Amsterdam is the financial, cultural, and creative centre and the capital of the Netherlands. The city is well known as Venice of the North for its lovely canals that criss-cross the city, its impressive architecture and the many bridges.
Car parks in Amsterdam
Unlimited parking is set to car parks in the city centre. Parking rates in public car parks : € 3.00-7.00/hour, daily maximums € 30.00-65.00.
1 -
De Bijenkorf
- Beursplein 15 - 1012 JW Amsterdam
2 -
De Kolk
- Nieuwezijdse Kolk 18 - 1012 PV Amsterdam
3 -
P1 Centre
- Prins Hendrikkade 20A - 1012 TL Amsterdam
4 -
IJdock
- IJdok 33 - 1013 MM Amsterdam
5 -
Willemspoort
- Haarlemmer Houttuinen 549 - 1013 GM Amsterdam
6 -
Oosterdok
- Oosterdokskade 3 - 1011 AD Amsterdam
7 -
Piet-Hein Garage
- Piet Heinkade 59 - 1019 GM Amsterdam
8 -
Markenhoven
- Anne Frankstraat 220 - 1011 MP Amsterdam
9 -
Waterlooplein
- Valkenburgerstraat 238 - 1011 ND Amsterdam
10 -
Stopera/Muziektheater
- Waterlooplein 28 - 1011 PG Amsterdam
11 -
The Bank
- Amstelstraat 12 - 1017 DA Amsterdam
12 -
Kalvertoren
- Singel 451 C - 012WP Amsterdam
13 -
Geelvinck
- Singel 540 - 1017 AZ Amsterdam
14 -
Europarking
- Marnixstraat 250 - 1016 TL Amsterdam
15 -
Byzantium
- Tesselschadestraat 1-G - 1054 ET Amsterdam
16 -
Museumplein
v.Baerlestraat 33B - 1071 AP Amsterdam
17 -
Museum Quarter
- Nicolaas Maesstraat 2 - 1071RA Amsterdam
18 -
Heinekenplein
- 1e van der Helststraat 6 - 1072 NV Amasterdam
19 -
Prins en Keijzer
Vijzelstraat-66-80 - 1017 HL Amsterdam