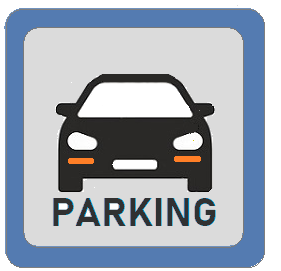 In Belgium parking restrictions are clear. Most on-street parking is chargeable parking, with parking meters on the streets. For long term parking you need to go to the car parks.
BELGIUM : DRIVING AND PARKING REGULATIONS Speed limits The following max. speed limits apply for cars and motorbikes:
Urban roads : 30 - 50 km/h
Non-urban roads : 90 km/h
Motorways : 120 km/h
Parking regulations Parking is not permitted within 15m of tram/bus/rail stops, or where tram/rail lines cross the road.
On streets with a yellow line on the curb and at signs with a red triangle (Axe Rouge)
Along very busy streets: no parking from 07.00-09.30 hours AM and 16.00-18.00 hours
Parking in blue zones Blue zones means free parking with your international blue disc for a limited number of hours. This blue disc is available from petrol stations, newsagents and police stations. Parking disabled car drivers With a European Blue Card you may park on parking spaces reserved for card holders only, but not if the space is marked with someone's name or a licence plate number.
In most areas parking is free of charge and without time limit on a road where payment is required. In case of payment, you may exceed the maximum time by extra payment.