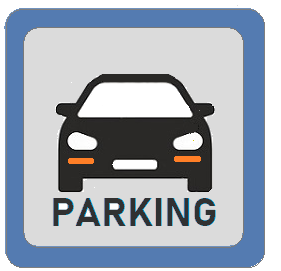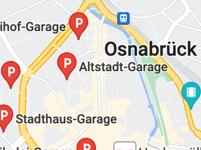 In
OSNABRÜCK
parking is quite easy. There are sufficient parking places. However, the parking rate on-street is high and the duration is limited. Long parking is possible at the cheap parking lots and carparks.
LOW EMISSION ZONE OSNABRÜCK

Please note that a Low Emission Zone (Umweltzone) exists in the city centre area of Osnabrück. Without a Umweltzone sticker the entrance into this area is prohibited.
MORE INFORMATION.
OSNABRÜCK : ON-STREET PARKING

City Centre
Operational hours
Charge and Stay
Monday to Saturday
O9:00 - 19:00
€ 3,00/hour
Max 1 hr (HBF 30 min)
Sunday/Public Holidays
Free parking
PARKING LOTS
Unlimited parking is set on the parking lots Berliner Platz (Kleiststraße), Große Rosenstraße, Haarmannsbrunnen, Kunsthalle Dominikanerkirche, Lengermann+Trieschmann (Herrenteichstraße), Pottgraben, and Stüvestraße.
Parking rate Mon-Sat till 22:00 hours: € 1,50/hr, € 15,00/day, after 22:00 hours and on Sunday and Public Holidays : € 1,00/hr.
CAR PARKS OSNABRÜCK
Osnabrück offers a very big capacity in car parks in the city center. Parking rates in public car parks : € 2.00/hour.

More information