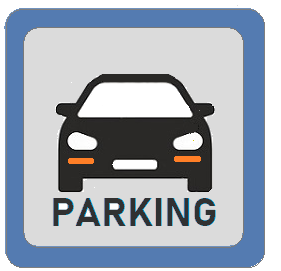 Driving and parking is not difficult. For driving on the Czechian highways you need to have a sticker for driving on the motorways. The sticker can be bought on the first rest area after the border at the desks of the petrol stations. Buy the sticker with a credit card or in CZK currency. Do not buy it from other persons (unfair high rates).
CZECHIA : : DRIVING AND PARKING REGULATIONS
Speed limits
The following max. speed limits apply for cars and motorbikes:
Urban roads :50 km/h
Non-urban roads : 90 km/h
Motorways : 130 km/h
Parking regulations
Parking on street is limited in most Czechian cities.
parking is only allowed on the right side of the road, but this restriction does not apply to one-way roads.
parking along a tram line is prohibited unless a 3.5 meters wide lane is left between the vehicle and the tram lane.
parking is forbidden within 5 metres of a junction, pedestrian crossing, or public transportation stop and within 15 metres of a train crossing.
Parking disabled car drivers

If you are a disabled driver, you may display yourm international blue badge and park in designated disabled parking spaces. If you intend to park in a car park please check with the attendant the possibilities.
Cities in Czech Republic
Car parking in Prague
Prague is the capital city of the Czech Republic, and it is one of the most popular tourist destinations in Europe. It is known for its beautiful architecture, vibrant nightlife, and rich history and culture.
Read more about car parking in Prague
Car parking in Brno
Brno is the second-largest city in the Czech Republic, located in the southeastern part of the country. Špilberk Castle is a popluair desitination.
Read more about car parking in Brno
Car parking in Ostrava
Ostrava is the third-largest city in the Czech Republic, located in the northeastern part of the country near the Polish border. It is an industrial hub with a rich history and cultural scene. Landek park is populair as wel as Ostrava Zoo.
Read more about car parking in Ostrava
Car parking in Plzen
Plzen (also known as Pilsen) is a city in the western part of the Czech Republic, known for its beer and historic architecture. The famous brewery Pilsner Urquell Brewery is the birthplace of Pilsner beer, and offers tours that include tastings.
Read more about car parking in Plzen
Car parking in Liberec
Liberec is a city located in the northern part of the Czech Republic, close to the border with Germany and Poland.
Read more about car parking in Liberec