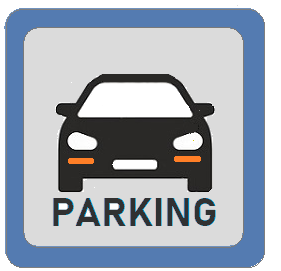 Parking restrictions apply in most towns and cities in Denmark. The parking regulations are clearly indicated. In some towns free parking is available with time restrictions.
Find here more information about parking in Copenhagen
DENMARK : DRIVING AND PARKING REGULATIONS
Speed limits
The following max. speed limits apply for cars and motorbikes:

Urban areas :
50 km/h

Non-urban areas :
80-90 km/h

Motorways :
110-130 km/h
A speed limit of 40 km/h applies within the centre of Copenhagen.
Parking regulations
Stopping is only allowed in the right side of the street.
Parking is prohibited on :

main roads and motorways

cycle paths and pedestrian crossings

less than 5 mtr from a zebra crossing or end of a cycle path

less than 10 mtr from an intersection

at bus stops with a yellow kerb

within 12 mtr of a bus stop
Parking blue zones
A blue parking disc must be used in areas with no parking fee. Signs on the parking lot inform you the duration of stay.
Parking disabled car drivers

Disabled car drivers may park max 15 minutes for free on roads where parking is prohibited, max 1 hr for free where parking is limited to 15-30 min., and unlimited where free parking is limited to 1-3 hours.
In all cases mentioned above you must display a parking disk.