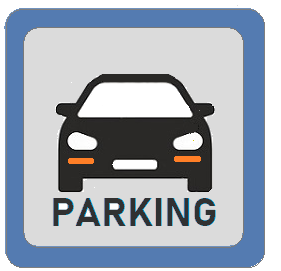 In the city
ZURICH
parking on-street is hardly possible since parking spaces are preliminary for residents with permits. Parking in one of the car parks is advisable for a visit of the city centre.

A Swiss motorway vignette is required to use the national motorways. This sticker can be bought at customs offices, post offices, petrol stations, garages, road traffic offices. The price is CHF 40.
ZÜRICH : ON STREET PARKING CITY CENTRE AND OERLIKON

central area
Operational hours
Charge and Stay
Monday to Sunday
08:00 - 21:00
1 hour : € 3.00
2 hours : € 7.50
(max. 2 hours)
FREE PARKING ZÜRICH

Max 15 min : Alfred-Escher-Strasse, Grütlistrasse, Gen-Guisan-Quai and Heuelstrasse.

Max 2 hours : Letzigrund

Max 6 hours : Otto-Schütz-Weg, Messe/Hallenstadion, Hagenholzstrasse and Zürichbergstrasse
CAR PARKS ZÜRICH
Unlimited parking is set to the car parks in the city centre. Informations boardings along the main roads inform you about the capacity and the way to the parking houses. Parking rates : € 2.00-3.00/hour.

More information
P+R PARKINGS ZÜRICH
Zürich offers cheap parking on the P+R's near train and bus stations. Parking rate is CHF 4.00 to CHF 6.00 per day for travellers on public transports. Normal day rate is CHF 12.00.
PARKING ZOO ZÜRICH
The ZOO offers limited car parking facilities. Parking is limited to 6 hours on Monday-Saturday, parking rate CHF 0.50/hour.
The max duration on Sundays and public holidays is 8 hours. Parking rate CHF 2.–/hr, 8 hours: CHF 15.–