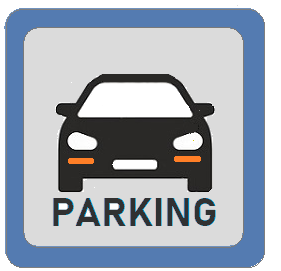 On-street parking in
PARIS
is limited and expensive. Please note that on-street parking is not permitted in many streets in the central part of the city and on main access routes, designated as red routes (axe rouge).
PARIS : ON-STREET PARKING

All Arrondissements
Oper. hours
Charge and stay
Monday to Saturday
09.00 - 20.00
Arr. 1-11 :
- € 6.00 per hour
- max. 6 hours
Arr. 12-20 :
- € 4.00 per hour
- max 6 hours
Sunday, Public Holidays
Free parking
You can pay the parking fares with the Paris Carte, a Credit Card or the PaybyPhone app. The "Paris Carte" card can be purchased from tobacconists. The parking meters do not accept coins.

CAR PARKS PARIJS
Unlimited parking is set to car parks in the city centre. Parking rates in public car parks : € 2.50-4.00/hour, daily maximum € 15.00-48.00. Some car parks offer special rates for the weekends and long term parking.

car parks arrondissement 1 and 2

car parks arrondissement 3 and 4

car parks arrondissement 5 and 6

car parks arrondissement 7 and 8