Parking in the county Luxembourg isn't a problem. Paid parking on-street is set on Mondy-Saturday, not on Sunday. Cheap or even free parking are the P+R's on the outskirts of the city. Public transport to the centre is available.
LUXEMBOURG : DRIVING AND PARKING REGULATIONS
Speed limites
The following max. speed limits apply for cars and motorbikes:

Urban areas :
max 50 km/h

Regional roads :
90 km/h

Highways :
120 km/h
Parking disabled car drivers

There are several disabled parking places on-street in Luxembourg City, marked with a road sign and on the road with the wheelchair symbol. The same parking regulations (fees and maximum periods) are set. You must display here a disabled parking permit.
Cities in Luxembourg
Car parking in Luxembourg City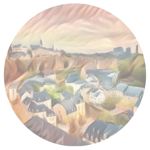 Luxembourg City is the capital city of the Grand Duchy of Luxembourg. The population of Luxembourg City is estimated to be around 125,000 people. Luxembourg City is known for its beautiful old town, which features many historic buildings and landmarks, including the Bock casemates (an underground fortress), the Grand Ducal Palace (the official residence of the Grand Duke of Luxembourg), and the Notre-Dame Cathedral (a stunning Gothic-style cathedral).
Read more about car parking in Luxembourg City