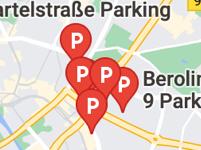 In
Berlin
paid on-street parking is set in Charlottenburg- Wilmersdorf, Friedrichshain-Kreuzberg, Mitte, Pankow, Spandau, Steglitz-Zehlendorf and Tempelhof-Schöneberg.
Due to a lack of capacity we advise you to use the car parks in the centre or the P+R's on the outskirts of the city.
LOW EMISSION ZONE BERLIN

A Low Emission Zone (Umweltzone) exists in the districts Mitte, Friedrichshain/Kreuzberg, Schöneberg, Neukölnn, Lichtenberg, Pankow and parts of Charlottenburg/Wilmersdorf. Without a Umweltzone sticker the entrance into this area is prohibited.
MORE INFORMATION.
BERLIN : ON-STREET PARKING CENTRAL AREAS

City center Berlin
Operational hours
Charge
ALT-MIITE
MONDAY - SUNDAY

09:00 - 24:00 hours

€ 2.00/30 min.
MOABIT, HANSAVIERTEL
GESUNDBRUNNEN, WEDDING
MONDAY - SATURDAY
SUNDAY


09:00 - 22:00 hours
NOT APPICABLE


€ 2.00/hour
FREE PARKING
PARKING AROUND CENTRAL AREA
In the area around the central area paid on-street parking is set on monday-friday from 09:00 - 20:00 hours and on saturday from 09:00 - 18:00 hours. Parking rates : € 1.00-2.00/hour. div>
BERLIN : CAR PARKS CITY CENTRE
The car parks in Berlin offer a very big capacity of parking places in the city centre. Parking rates : € 1.00-4.00/hour, daily maximum € 10.00-35.00. More expensive are the hotel car parks.

More information
P+R PARKINGS BERLIN
P+R locations close the tram stations offer free or at least very cheap but unguarded parkings spaces. If applicable, rates € 0.50-1.50 p.day. Good public transport brings you in a while to your destination.

More information