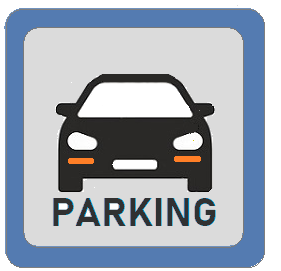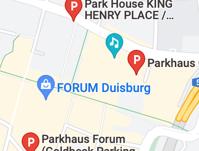 In
DUISBURG
parking is quite easy and cheap in the city centre. The parking-info-system assists you in finding the right parking place and informs you about the available capacity. Parking is unlimited.
LOW EMISSION ZONE DUISBURG

Please note that a Low Emission Zone (Umweltzone) exists in the city centre area of Duisburg. Without a Umweltzone sticker the entrance into this area is prohibited.
MORE INFORMATION.
DUISBURG : ON-STREET PARKING

City Centre
Operational hours
Charge and stay
Monday to Friday
09:00 - 20:00
1st hour € 0,50
2nd hour € 1,00
subs. € 1,50/hour
Unlimited parking
Sunday/Public Holidays
Free parking
Parking capacity is available at the Burgplatz, Obermaurer Strasse, Friedrich-Albert-Lange-Platz, Mercator Strasse, Portmouth Strasse, Düsseldorfer Strasse, Grosser Kalkhof, and Marientor Strasse.
PARKING AROUND CITY CENTRE
In the areas adjacent to the city centre paid and unlimited parking is set on :
- Monday to Friday from 08:00/09:00 - 20:00 hours
- Saturday from 08:00/09:00 - 14:00 hours.
Parking rate Neudorf-Nord, Duissern und Neudorf : € 1.00/hour and in the rest of Duisburg € 0,50/hour.
CAR PARKS DUISBURG
Unlimited parking is also set to car parks in the city centre. Parking rates : € 1.50/hour, daily maximum € 12.00.

More information