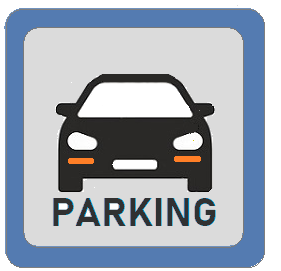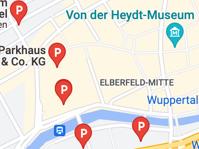 In
WUPPERTAL
parking is not quite easy due to a lack of capacity on-street and in car parks, especially in the central districts of Elberfeld and Barmen. Street parking is unlimited and not expensive.
LOW EMISSION ZONE WUPPERTAL

Please note that a Low Emission Zone (Umweltzone) exists in the city centre area of Wuppertal. Without a Umweltzone sticker the entrance into this area is prohibited.
MORE INFORMATION.
WUPPERTAL : ON-STREET PARKING

City Centre
Operational hours
Charge and stay
Monday to Friday
10:00 - 18:00
€ 2.00/hr, € 8,00/day
Unlimited parking
PARKING AROUND CITY CENTRE
In Barmen and Elberfeld the parking rate is € 0,50/20 min (€ 1,50/hour), daily maximum € 6,00. A special evening flat rate applies for the area Barmer Bahnhof and Barmer Opera House : € 2,00.
CAR PARKS WUPPERTAL
Unlimited parking is also set to car parks in the city centre. Parking rates in public car parks : € 0.60-1.80/hour.

More information
P+R PARKINGS WUPPERTAL
Free parking is set to the P+R parkings close to the stations of the Schwebebahn, S-bahn, U-bahn, Bus :
Adlerbruecke, Barmen, Langerfeld, Oberbarmen, Silberkuhle, Sonnborn, Sonnborner Ufer, Unterbarmen, Velbert-Rosenhuegel, Vohwinkel, Waldeckstrasse, Woelfrath-Aprath, and Zoo/Stadion (Haltepunkt).
From here you can take public transport to the city center.