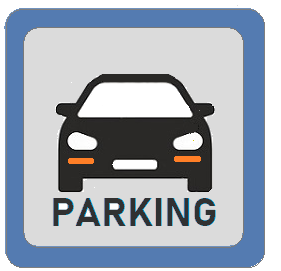 BUDAPEST
is divived by the river Danube in Buda and Pest. The inner city is a car-free zone with no parking facilities. In the area between the Danube, the Grand Boulevard in Pest, the Castle Hill in Buda parking is limited.
BUDAPEST : ON-STREET PARKING
City Centre
Operational hours
Charge
Monday to Friday
08:00 - 20:00
HUF 525 (€ 1,75/hr)
Max. 3 hours
Weekend/public holidays ( * )
Free parking
( * )
In the areas Margaret Island and Buda Castle district paid parking is also set on saturday and sunday.
PARKING AROUND CITY CENTRE
In the rest of Buda and the area outside of the Grand Boulevard in Pest paid parking is set on Monday-Friday from 08:00-18:00. The duration is limited to 3 hours. Parking rate : HUF440/hr (€ 1,20/hr).
In all other parts of the city the hourly rate is HUF 330 (€ 0,90).
CAR PARKS BUDAPEST
For long parking you can use the (multi-storey) car parks in het centre of Budapest, all situated near shopping centers and international hotels. The carparks are open 24/7, parking rate : HUF 240-600/hr.

P+R PARKINGS BUDAPEST
Cheap or free parking is set to the P+R parking lots near the metrostation and bus terminals on the outskirts of the city : Árpád bridge, Nagyvárad square, Örs Vezer Square, Nepliget a.s.o.