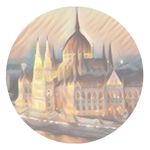 Car Parking in Budapest? We give you some free advice about parking rates, car parks and p+r locations around the city.
Parking in Budapest
Budapest is the capital and largest city of Hungary, located in the central part of the country. The city is known for its stunning architecture, historic thermal baths, and rich cultural heritage.
BUDAPEST
is divived by the river Danube in Buda and Pest. The inner city is a car-free zone with no parking facilities. In the area between the Danube, the Grand Boulevard in Pest, the Castle Hill in Buda parking is limited.
About Budapest in Hungary
Budapest is the capital and largest city of Hungary, located in the central part of the country, on both banks of the Danube River. With a population of approximately 1.8 million, Budapest is the 9th most populous city in the European Union.
BUDAPEST : ON-STREET PARKING
City Centre
Operational hours
Charge
Monday to Friday
08:00 - 22:00
HUF 600 (€ 2,25/hr)
Max. 3 hours
Weekend/public holidays ( * )
Free parking
( * )
In the areas Margaret Island and Buda Castle district paid parking is also set on saturday and sunday.
PARKING AROUND CITY CENTRE
In the rest of Buda and the area outside of the Grand Boulevard in Pest paid parking is set on Monday-Friday from 08:00-18:00. The duration is limited to 3 hours.
CAR PARKS BUDAPEST
For long parking you can use the (multi-storey) car parks in het centre of Budapest, all situated near shopping centers and international hotels. The carparks are open 24/7, parking rate : HUF 240-600/hr.

More information
P+R PARKINGS BUDAPEST
Cheap or free parking is set to the P+R parking lots near the metrostation and bus terminals on the outskirts of the city : Árpád bridge, Nagyvárad square, Örs Vezer Square, Nepliget a.s.o.
Top 10 Attrations in Budapest
Visit Buda Castle
Explore Fisherman's Bastion
Take a dip in the thermal baths, such as Széchenyi or Gellért Baths
Walk along the Danube Promenade
Visit St. Stephen's Basilica
Explore the Hungarian Parliament Building
Take a ride on the Budapest Eye Ferris Wheel
Check out the Great Market Hall
Visit the Shoes on the Danube Bank memorial
Take a tour of the Hungarian State Opera House.