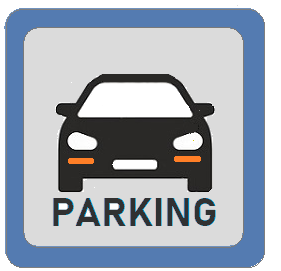 In
GENEVA
parking is set in several zones : paid parking in the white zones and free parking in the blue zones. For long term parking you can use the car parks or the P+R's on the outskirts. Parking in yellow zones is not allowed.

A Swiss motorway vignette is required to use the national motorways. This sticker can be bought at customs offices, post offices, petrol stations, garages, road traffic offices. The price is CHF 40.
GENEVA : ON-STREET PARKING

City Centre
Operational hours
Charge and Stay
Monday to Saturday
08:00-11:30/13:30-18:00
CHF 2.80/hour
(max 90 min)
Sunday / Public Holidays
Free parking
PARKING AROUND THE CITY CENTRE
In the first adjacent area around the city centre the same parking times apply. Maximum stay is 1,5 hour, parking fee CHF 1,50/hr.
FREE PARKING
With the blue Swiss parking disc you may park 1,5 hour for free in the blue zones on Monday-Saturday from 08:00-11:30 and 13:30-19:00.
Around the city centre the parking time in the blue zones is max 3-4 hours.
P+R PARKING GENEVA
On the outskirts of Geneva cheap parking possible on the P+R's. Rate is CHF 1/hour, CHF 10/day. If you continue your travel to the city centre by public transport, the daily rate is CHF 12 (1 day public transport ticket included).
Parking lot at Cern Globe offers free parking for the whole day.
CAR PARKS GENEVA
Since on-street parking is limited the best place for parking in the city centre are the car parks. Parking rates : € 3.00-4.00/hour.

More information