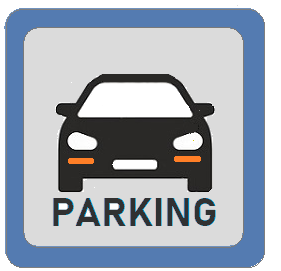 Rome is one of the most-visited tourist destination in Europe. Traffic in Rome is chaotic and stressful, parking capacity is limited. The historic centre is a ZTL-zone. For entering this zone you need to have a ZTL-pass and to pay for parking. Parking here is only possible on parking bays with blue lines.
ZTL (Zona Traffico Limitato) Rome

A ZTL is set in Centro Storico of Rome and in Trastevere. Entering the zone is only authorized to local inhabitants with a permit or to individuals destined for a hotel in the restricted zone. Ask your hotel to assist with the registration of your license plate number. The ZTL is controlled by cameras. For more detailed information on ZTL timings click on
ZTL ROME.
Our Advice: Cheap parking in Rome
Going to Rome for a trip? Book your long-stay parking in Rome in advance. You can save up to 70%!
See all the parking spots in Rome
ROME : ON-STREET PARKING (ZTL zones)

City Centre
Operational hours
Charge and stay
Monday to Saturday
09:00 -23:00/03:00
€ 1,20/hour
(max. 2 hours)
Sunday/Public Holidays
Free parking
ROME : PARKING AROUND ZTL ZONE
Outside the ZTL-zone paid parking is possible in the residential areas. Paid parking is set on Monday-Friday/Saturday from 08:00-23:00/03:00. Parking rate : € 1.00/hour. Tickets can be bought from p-machines on the street or at Tabacchi selling points. Tickets for more than a day are possible.
ROME : FREE PARKING
With your blue international parking disc you may park 3 hours for free in areas near hospitals and in residents area in the city on parking bays with white stripes.
CAR PARKS ROME CITY CENTRE
Since street parking is very difficult, you can better use the car parks. The Centro Storica has just a few car parks. Most of the carparks are outside the ZTL-zone. Some hotels have their own parking facilities.
Parking rates : € 1.00-5.00/hour, € 12.00-40.00/day.

More information
P+R PARKINGS ROME
Cheap parking is also possible on the parking lots/car parks near the several metro stations outside the central area of Rome. Parking rates : € 2.00 for 12 hours, or € 3.00 for a whole day.

More information