In some Hungarian cities paid on-street parking is set on weekdays and free during nights and weekends. The payment machines give you more information about the stay and parking rate. Place the payment receipt on the dashboard for the parking controllers.
The legal blood alcohol limit in Hungary is 0.0%. Driving under the influence of alcohol or drugs is strictly prohibited and can result in heavy fines, license suspension, or imprisonment.
HUNGARY : DRIVING AND PARKING REGULATIONS
Speed limites
The following max. speed limits apply for cars and motorbikes:

Urban areas :
max 50 km/h

Regional roads :
90 km/h

Main roads :
110 km/h

Highways :
130 km/h
Parking regulations
Please not that stopping is prohibited on the left-hand side of a two-way street, within 5m of an intersection, on a pedestrian crossing, in a bus lane or at a bus stop. Check locally if more prohibitions are valid.
Parking disabled car drivers

Disabled car drivers may park free of charge on on roads where payment is required. Parking is unlimited op streets where parking is free but restricted by time. Displaying the parking card is obligatory all the time.
Big Festivals in Hungary
the most popular large events in Hungary that take place annually or regularly:
Budapest Wine Festival
This festival takes place in Budapest each September and is a celebration of Hungarian wine, food, and culture. It features over 200 wineries, food vendors, live music, and more.
Sziget Festival
One of the biggest music festivals in Europe, Sziget takes place on an island in Budapest each August and features a lineup of international and Hungarian musicians, performers, and artists.
Formula One Hungarian Grand Prix
Held annually in July or August, this motorsport event takes place at the Hungaroring race track outside Budapest and attracts thousands of racing fans from around the world.
Budapest International Documentary Festival
This festival takes place each January and showcases the best documentary films from Hungary and around the world, along with filmmaker Q&A sessions, workshops, and other events.
Budapest International Book Festival
Held in April, this festival brings together authors, publishers, and book lovers from Hungary and beyond to celebrate literature, participate in workshops and panels, and attend book signings and readings.
Cities in Hungary
Budapest is by far the largest city in Hungary.
Car parking in Budapest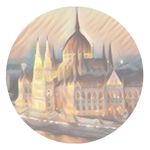 Budapest is a large city, and driving can be challenging due to heavy traffic, narrow streets, and limited parking options. On-street parking is regulated and can be difficult to find, but it's often the cheapest option. Parking garages are more expensive but more convenient and secure.
Read more about car parking in Budapest