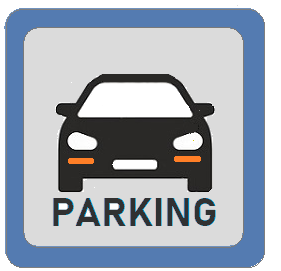 In some Hungarian cities paid on-street parking is set on weekdays and free during nights and weekends. The payment machines give you more information about the stay and parking rate. Place the payment receipt on the dashboard for the parking controllers.
HUNGARY : DRIVING AND PARKING REGULATIONS
Speed limites
The following max. speed limits apply for cars and motorbikes:

Urban areas :
max 50 km/h

Regional roads :
90 km/h

Main roads :
110 km/h

Highways :
130 km/h
Parking regulations
Please not that stopping is prohibited on the left-hand side of a two-way street, within 5m of an intersection, on a pedestrian crossing, in a bus lane or at a bus stop. Check locally if more prohibitions are valid.
Parking disabled car drivers

Disabled car drivers may park free of charge on on roads where payment is required. Parking is unlimited op streets where parking is free but restricted by time. Displaying the parking card is obligatory all the time.