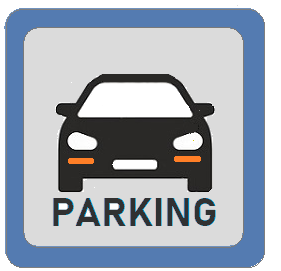 In
LEIPZIG
street parking is set in the areas within the Promenadenring. The duration on-street is limited. For long parking you can use the car parks in the city centre or the free P+R's on the outskirts of Leipzig.
LOW EMISSION ZONE LEIPZIG

A Low Emission Zone (Umweltzone) exists in the city centre area of Leipzig. Without a Umweltzone sticker the entrance into this area is prohibited.
MORE INFORMATION.
LEIPZIG : ON-STREET PARKING

City Centre
Operational hours
Charge and Stay
Monday to Sunday
09:00 - 22:00
€ 2,00/hr
Max. 2 hours
(Willy-Brandt-Platz, Georgiring, Augustusplatz, Roßplatz, Wilhelm-Leuschner-Platz, Martin-Luther-Ring, Dittrichring, Goerdelerring, Tröndlinring)
PARKING AROUND CITY CENTRE
In the first area adjacent to the inner city the parking rate is € 0.70/30 min., in zone 3 € 0.30/30 min.
CAR PARKS LEIPZIG
Unlimited parking is also set to car parks in the city centre. Rates in public car parks : € 0.60-1.00/hour, daily maximum € 10.00.

More information
P+R PARKINGS LEIPZIG
Free parking is set to six P+R's on the outskirts of the city. The P+R's are open around the clock. Bus transport to the city centre is available.
• P+R Leipziger Messe - Georg-Herwegh-Straße - 04158 Leipzig
• P+R Schönauer Ring - Jenaer Straße - 04205 Leipzig
• P+R Plovdiver Straße - Miltitzer Allee - 04207 Leipzig
• P+R Krakauer Straße - 04207 Leipzig
• P+R Agra - Bornaische Straße - 04279 Leipzig
• P+R Völkerschlachtdenkmal - Ludolf-Colditz-Straße - 04299 Leipzig
• P+R Hans-Weigel-Strasse - 04357 Leipzig.