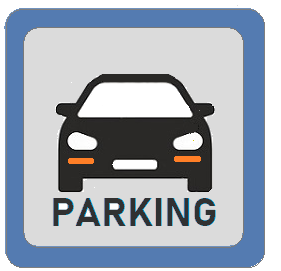 Centro Storico of RAVENNA is partly a car free zone and a ZTL (Zona Traffico Limitato) with access for permit holders only. Visitors can buy a permit on site. In the rest of the centre parking is settled by a mixture of paid and free parking apply.
ZONA TRAFFICO LIMITATO

The ZTL zone is valid in Via Baccarini, Via Di Roma, Via Guaccimanni, Via Guerrini, Via Mariani, Via Matteucci, Via Ponte Marino, Via Rondinelli and Via Cavour. Visitors can buy (€ 8,00) a ZTL permit at the special parking meters, valid for the day of issue only. The ZTL-zone in Ravenna is controlled by video cameras.
RAVENNA : ON-STREET PARKING

City Centre
Operational hours
Charge and Stay
Monday to Saturday
08:00 - 18:30
€ 1,90/hour
Max. 2,5 hours
Sunday/Public Holidays
Free parking
PARKING OTHER ZONES

ZONE MAX 2,5-4 hours :
Via Port'Aurea, Largo Firenze, Piazza Mameli, Piazza Baracca, Piazza Duomo, Piazza D'Annunzio, Piazzale Segurini, Via di Roma. P-rate : € 0,80-1,20/hour.

ZONE MAX 12 hours :
Piazza Della Resistenza, Piazza della Resistenza, Viale Randi, Via Missiroli, Via Monfalcone, Piazzale Torre Umbratica, Via Sant'Albert, Piazzale Torre Umbratica, Via Sant'Albert. P-rate : € 0,35/hour.
FREE PARKING
Free parking is possible on Piazza Della Resistenza, Via Renato Serra, Piazzale Mario Spik, Piazza Aldo Moro, and Piazzale Del Commercio.
CAR PARKS RAVENNA
Unlimited parking is set to car parks in the city centre. Parking rates are : € 1.50-2.00/hour.
P1 - Garage Mariani - Via Angelo Mariani, 42 - 48121 Ravenna
P2 - Parcheggio Alighieri - Via Beatrice Alighieri, 20 - 48121 Ravenna
P3 - Garage Navoni 2000 - Vicolo Padenna, 13 - 48121 Ravenna
P4 - Garage La Torre - Via Girolamo Rossi - 48121 Ravenna
P5 - Garage Centrale2 - Via Pellegrino Matteucci, 11 - 48121 Ravenna
P6 - Garage San Vitale - 10, Via San Vitale - 48121 Ravenna
P7 - Garage Centrale - Via Luca Longhi, 23 - 48121 Ravenna
P8 - Santa Maria Foris - Via Giuseppe Pasolini 61 - 48121 Ravenna