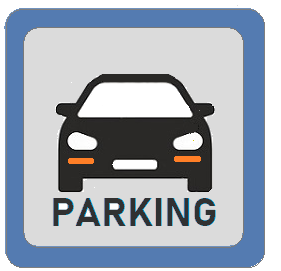 The Centro Storico of Salerno is a ZTL zone where only inhabitants with a permit have access to. Visitors can park on the several parking lots and car parks, all outside the ZTL. The parking capacity on-street is limited.
ZTL (Zona Traffico Limitato) Salerno

The ZTL of Salerno consists of a large area of the historical center, bounded to the south by Via Roma, to the north by Via Duomo, San Benedetto and Salvatore Rienzi. The zone is active every day and is controlled by video cameras. Without a permit the ZTL zone is prohibited to visiting car drivers at all times.
SALERNO : ON-STREET PARKING (Piazza M. Luciani and Via Lista)

City Centre
Operational hours
Charge and stay
Monday to Sunday

08:00 - 03:00
€ 2,00/hr
Unlimited parking
PARKING AROUND CITY CENTRE
Good parking capacity can be found on parking lots with paid parking from monday to sunday 00:00-24:00 :

Piazza Concordia/Sottopiazza Concordia € 2,00/hour

Piazza G. Mazzini € 2,00/hour

Via S. Robertelli € 1,00/2hour (13:00-07:00 : € 1,00 full stop)

Lungomare Marconi/Piazza d'Armi € 1,00 (full parking)

Foce Irno/Foce Irno Interrato € 1,00/ 1hour

Via S. Robertelli € 1,00/2hr (13:00-07:00 € 1,00/full stop)
CAR PARKS SALERNO
Unlimited parking is set to car parks in the city centre. Parking rate in public car parks € 1.00-2.00 per hour.
P1 - Garage Leone Salerno - Via Papa Andrea Generale - 84122 Salerno
P2 - Garage Ascanio - Via Domenico Scaramella, 15 - 84123 Salerno
P3 -
Garage Manzo
- Via Francesco Manzo, 56 - 84122 Salerno
P4 -
Easy Parking
- Via Lucio Petrone, 1/7 - 84134 Salerno
P5 -
Garage Duomo
- Via Fratelli Linguiti, 2 - 84121 Salerno
P6 -
Autorimessa Olimpia
- Via Leonino Vinciprova, 1 - 84127 Salerno
P7 - Garage Barra Mario - Via Arce, 2 - 84125 Salerno