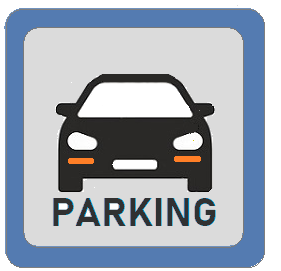 The inner city of Trieste is a pedestrian zone with around the ZTL (Zone Traffico Limitato). On-street paid parking is set in around these areas.
ZTL (Zona Traffico Limitato) TRIESTE

The centre of Trieste is partly a ZTL (Zona Traffico Limitato). The zone is operational permanently and controlled by cameras. Visiting car drivers are advised to park in the car parks outside the ZTL.
Paid parking is set on parking bays along blue lines.
TRIESTE : ON-STREET PARKING
City Centre
Operational hours
Charge
Monday to Saturday
08:00 - 20:00
Red zone : € 1.40/hr
Yellowzone: € 1.00/hr
PARKING AROUND CITY CENTRE
Around the inner city and in the residential areas the p-rate is € 0.80/hr.
CAR PARKS TRIESTE
Unlimited parking is set to car parks in the city center. Parking rate in public car parks around € 1.40-1.90/hour.
1 - Saba Flavio Gioia - Via Flavio Gioia - Trieste
2 - Silos - Piazza della libertà, 9 - Trieste
3 - Parking Hangarage   - Via Milano, 4 - Trieste
4 - Saba Foro Ulpiano - Foro Ulpiano, 1 - Trieste
5 - Autorimessa Central - Via Scipio Slataper 5 - Trieste
6 - Saba Via della Pietà - Via della Pietà, 7 - Trieste
7 - Park San Giusto - Via del Teatro Romano 7 - Trieste
8 - Parcheggio Campo San Giacomo - Campo S.Giacomo, 16 - Trieste
9 - Garage Regina - Via della Raffineria, 6 - Trieste