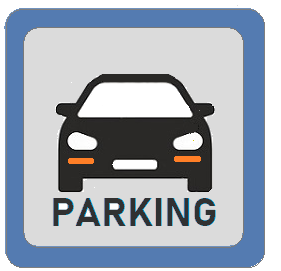 On-street parking facilities in Portugal are often difficult to find in the summer time in the main touristical destinations as Lisbon, Porto and Faro. Our advice : park your car in a designated car park on the outskirts of the city centre and walk to your destination.
PORTUGAL : DRIVING AND PARKING REGULATIONS
Speed limits
The following max. speed limits apply for cars and motorbikes:

Urban areas : max 20-50 km/h

Regional roads : 90-100 km/h

Highways : 120 km/h
A motorway toll systems applies on the highways in Portugal. Payment by cash or credit card. More information to be found at Portugal tolls.
Parking regulations

Parking is not allowed along white and blue signs with a red line on it and on locations with yellow or red signs painted on the curb.

Parking is also forbidden within less than 5 meters of an intersection and less than 25 meters before a bus and tram stop and 5 meters after the stop.

• Park your car in the same direction as traffic on a one-way street.