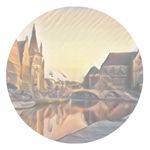 The inner city of
GHENT
is a paid parking area with priority for residents with p-permits. In some residential areas parking is free but limited with the international blue disc.
LOW EMISSION ZONE GHENT
The entire city centre of Ghent (the area within the ring road) is a Low Emission Zone that regulates the entry for cars, minibuses, buses and coaches. Old diesel vehicles (Euro 1 standard or without Euro standard) are banned from the zone. For entering the LEZ you need to have a LEZ Pass to avoid a fine.
More about LEZ GHENT.

GHENT : ON-STREET PARKING
City Centre
Pay Times
Charge and Stay
Monday to Saturday
09:00 - 19:00
• 1 hour : € 2.50
• 2 hours : € 6.00
• 3 hours : € 10.00
(maximum 3 hrs)
19:00 -24:00
€ 1.50/hour
(unlimited parking)
Sunday / Public Holidays (*)
Free parking (*)
(*)Please not that paid parking applies on Boxing Day.
PARKING AROUND THE CITY CENTRE

Near the train stations Dampoort and Gent-Sint-Pieters paid parking is set on Mon-Sat from 09:00-19:00 hours. Max stay is 3 hrs, p-rate € 1.50/hr.

In the Residential zones paid parking is set on Mon-Sat from 09:00-23:00 hours. P-rate 09-19 : € 1.50/hr, p-rate 19-23 : € 1.00/hr. Max € 4.50/day.
CAR PARKS GHENT
The city offers a big parking capacity in car parks. Parking rates : €0.50-1.50/hour, daily maximum is € 5.00-15.00.

More information
P+R PARKINGS GHENT
Free parking is possible on most of the P+R locations on the outskirts of the town. Public bus transfer to the city centre is available.

P+R Gentbrugge
- Land van Rodelaan 9 - 9050 Gent

P+R Oostakker
- Antwerpsesteenweg - 9040 Gent

P+R Flanders Expo
- Maaltekouter 1 - 9051 Gent (chargeable parking)

P+R Wondelgem Industrieweg
- Liefkensstraat - 9032 Gent

P+R Wondelgem
- Botestraat/Blauwstraat - 9032 Gent

P+R Mariakerke
- Brugsesteenweg 650 - 9030 Mariakerke

P+R Moscou
- Jozef Vervaenestraat - Gentbrugge